Alicia Koplowitz has amassed through Grupo Omega Capital, a collection that reflects her own personal tastes, bringing together numerous masterpieces from some of the world's greatest artists. The Old and Modern Masters feature heavily in her collection, fostering a dialogue of sorts across the centuries: antique sculptures and paintings by Zurbarán, Tiepolo, Canaletto, Guardi and Goya can be seen alongside paintings and drawings by Toulouse-Lautrec, Gauguin, Van Gogh, Picasso, Van Dongen, Modigliani, Schiele, de Staël, Freud, Rothko and Barceló, as well as sculptures by Giacometti, Bourgeois and Richier.
A selection of some of the most beautiful pieces from this exceptional collection is to be presented to the public for the first time at the Musée Jacquemart-André, the former residence of another remarkable collector: Nélie Jacquemart, who together with her husband developed a splendid ensemble as eclectic as Alicia Koplowitz's - Grupo Omega Capital collection can be.
The exhibition pays tribute to one of the most prolific collectors of our time. The fifty-three works shown here retrace her tastes and the choices she has made over a period of thirty years, and invite us to share in the emotion of the collection. Beyond the diversity of technique, epochs and styles, the works in the Alicia Koplowitz Collection - Grupo Omega Capital all share all share the same artistic sensibility. They bear witness to a subtle but confident, audacious taste, with a certain penchant for female portraits. Whether she is the model or artist, the creator shaping the material or the inspiring muse, woman is at the heart of the majority of these artworks, all of which have been selected by Alicia Koplowitz - Grupo Omega Capital.
Alicia Koplowitz: a biography
Alicia Koplowitz is a Spanish business woman, president of the Grupo Omega Capital , the investment company she founded in 1998. She has also established a foundation for children and people suffering from multiple sclerosis. In 2006, she was made a Chevalier of the Légion d'honneur in recognition of her professional career, her social work and her privileged relationship with France. She is also known for this art collection, considered to be one of the most significant in Europe. For her, art has been a passion since her childhood and she has acquired works at various stages throughout her professional and personal life.
The Team
Curatorial team
A law graduate from the Universidad Complutense in Madrid and a connoisseur of the art market, Pablo Melendo Beltrán joined Christie's Spain in 1996 as Director before being made Managing Director of Sotheby's Spain in 2008. In 2010, he created his own art advisory agency. He has also acted as curator on a number of exhibitions, including: El Legado de la Casa de Alba at the Palacio de Cibeles in Madrid (November 2012 - April 2013), Ignacio Zuloaga y Manuel de Falla: Historia de una amistad at CentroCentro in Madrid (September 2015 - January 2016), and at the Alhambra, Grenada (July - October 2016). He was the artistic advisor on the exhibition A Su Imagen (November 2014 - April 2015) at the Fernán Gómez Centro Cultural in Madrid, showcasing Spanish religious treasures.
Pierre Curie is chief curator of heritage. Specialist of Italian and Spanish painting of the XVIIth century, he also worked on the French painting of the XIXth century at the Musée du Petit Palais, where he started his career. Then in charge of the painting at the General Inventory, he has co-authored and led the Vocabulaire typologique et technique de la peinture et du dessin (published in 2009). Appointed head of the painting sector of the restoration department of the Centre de recherche et de restauration des Musées de France in 2007, he coordinated and followed some major restorations of paintings of the national museums (Leonardo da Vinci, Titian, Rembrandt, Poussin ... ). Currently director of the Revue de l'Art, Pierre Curie is curator of the Musée Jacquemart-André since January 2016.
Programming
The former Director of Paris Musées, and then Head of Production at the Centre Pompidou, Sophie Hovanessian has also worked as General Administrator of the Réunion des Musées Nationaux. Appointed Administrator of the Musée Jacquemart-André in 2010, she is Head of Cultural Programming and Exhibitions for Culturespaces.
Agnès Wolff, head of exhibitions, Eleonore Lacaille, exhibitions manager at the Musée Jacquemart-André and Amélie Carrière, régisseur at Culturespaces, have also played an important role in the organization and realization of this exhibition Culturespaces.
Scenography
Hubert Le Gall is a French designer, creator and sculptor of contemporary art. Since 2000 he has produced original scenographies for exhibitions.
Official exhibition app
The official application of the exhibition "From Zurbaran to Rothko. Alicia Koplowitz Collection - Grupo Omega Capital" offers a guided tour of the exhibition with the commentary on 23 works of art, reproduced in full screen definition.
Rate: €2,99
> Available on AppStore
> Available on Google Play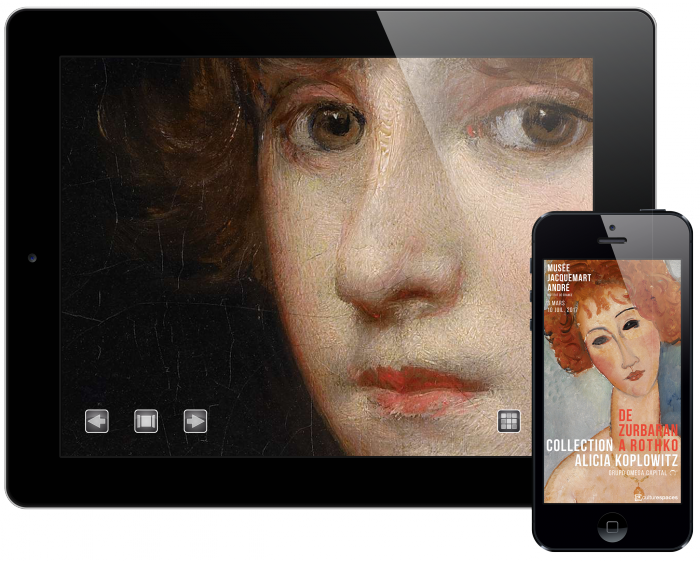 © Culturespaces / S. Lloyd