patrons
The Jacquemart-André Museum would like to use this page to thank all the patrons who have contributed towards the creation of extraordinary projects and the enhancement of the works of the museum.
Our current patrons

THE VELUX FOUNDATIONS granted the exhibition on the Danish painter Vilhelm Hammershøi. The grant is given specifically to the scientific research and the educational promotion of the exhibition. THE VELUX FOUNDATIONS hope that this grant will contribute to the worldwide knowledge and interest in the Danish painter Vilhelm Hammershøi and his unique interpretation of and artistic skills to paint light.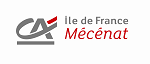 In 2019, they support the restoration of the museum's exterior statuary.