The private apartments
Occupying part of the mansion's ground, The couple's private apartments are in a Louis XV style.
Nélie's bedroom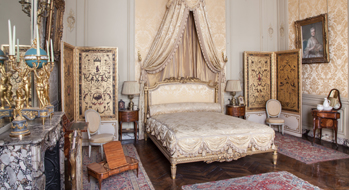 The private apartments of the residence comprise three rooms set slightly apart from the reception rooms on the ground floor. In her bedroom, Nélie Jacquemart chose to return to the atmosphere of the reign of Louis XV. She installed old wood panelling around a large daybed and positioned some of her most beautiful furniture here, along with a multitude of the small tables with which she liked to surround herself. Silks from Lyon hang on the walls along with two pastel paintings, including the exceptional Portrait of a man by Maurice Quentin de la Tour.
She had a small conservatory sitting room built on the terrace, which she made into her office.
The Antechamber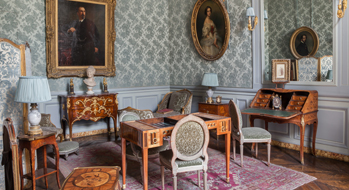 The antechamber, located between the two bedrooms, was the couple's special private meeting place. Every morning they took their breakfast here, surrounded by family portraits. Among these, the portrait that Nélie painted of Edouard in 1872 and which brought them together for the first time features prominently. The memory of Edouard André is ever-present here; personal items such as his father's wallet and the "who's who" from the period when he was a member of the National Assembly all recall his presence.

Edouard's bedroom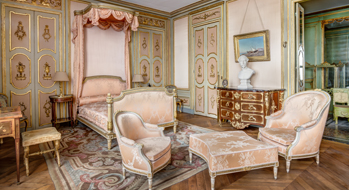 His bedroom and the adjoining bathroom, both renovated after his death, now suggest more of a woman's touch. A Transition-period chest of drawers, attributed to B.V.R.B., is presented with his plaster bust by Carpeaux. In spite of its resemblance to the emperor, it really is Edouard André – the ultimate expression of Nélie's admiration and loyalty to her husband.